How do I get a Mongolian driver's license?
Okay, so you want to know how to get a Mongolian driver's license. This post will hopefully help you avoid some of the mistakes, that I myself made when trying to apply for a license in Mongolia and let me tell you it isn't such a straightforward task if you don't know where to find the right information. Mongolia isn't a country where nowadays you can bribe your way to a licence, in fact, we rang around to see that exact thing just to see what would happen! So how do you get a Mongolian driver's license?
Depending on what category you fit into, there is a simple answer here. Hopefully, by the end of this post, you will have a better idea of what to expect when trying to get a Mongolian licence. There are several options which I will talk about below, so scroll to the one which most applies to you.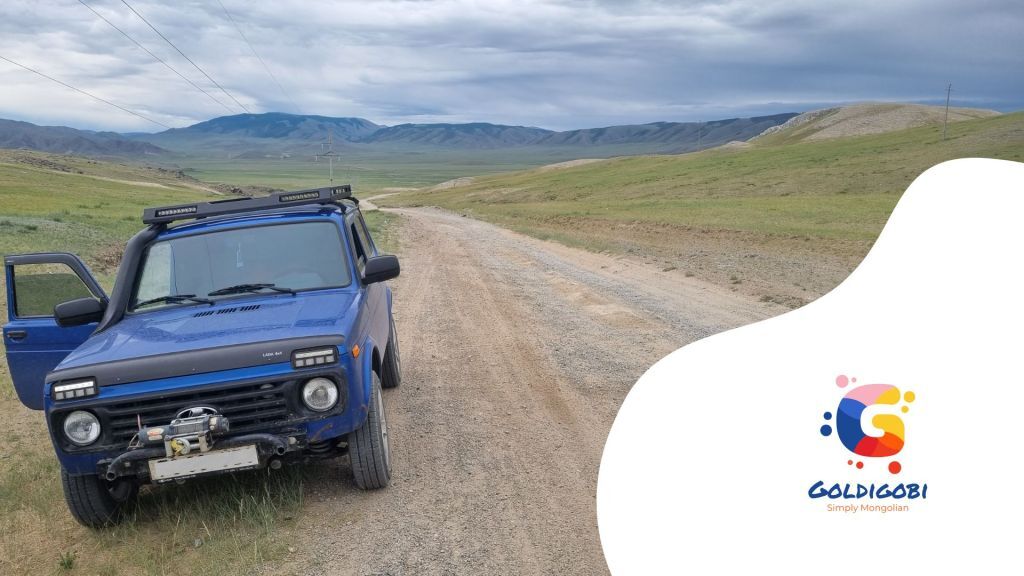 OPTION 1: Get an international license
Get an international license. You might say, well sure that sounds easy enough but hold on just a minute. Not all international licences in Mongolia are equal. Depending on your country you may or may not be able to use an international licence in Mongolia. You will need to check with your own country's authorities to see if Mongolia is on the list. If you are from Europe it will be a pretty safe bet. If you are from Australasia you may be out of luck.
If you go this route you will still need to apply for one in your home country and keep your international licence on you while driving in Mongolia.
What's the downside?
Well, this option really is only suitable for those travelling or staying in Mongolia temporarily, so if you plan to stay longer, it may pay to use the next option.
OPTION 2: Use your own license or get it converted
Use your own license or get it converted! You might be thinking why didn't I mention this first again there is a reason. This option is only available to certain nationalities (Australasia, sorry again this isn't for you). Mongolia is part of the Vienna Convention on Road and Traffic which means all countries that are part of the convention citizens can drive with a licence from their own country. You should check out if your country is part of this convention or not.
The downside?
So, the issue with this is while on paper Mongolia recognises this, practically it might not be the case. We have heard first-hand accounts of police not accepting foreign licences and there is a reason for this. They may not be able to issue tickets the same as if you had a Mongolian licence. In fact, in one account we heard of, a policeman refused to give back a licence after pulling over a person until that driver had converted their licence to a Mongolian one. So if you don't want your licence taken off you or you are planning on staying a while you should get your licence converted which isn't too difficult. However, this option again may not be possible.
OPTION 3: Use your license but take a theory exam
Use your license but take a Mongolian theory driving exam. Okay, for those who can't use an international licence or you can't simply convert your licence this option is the best solution. We wish we had known about this option first, as we were not told by our driving school that we could do this even when we asked before signing a contract with the school (we will talk about that more later).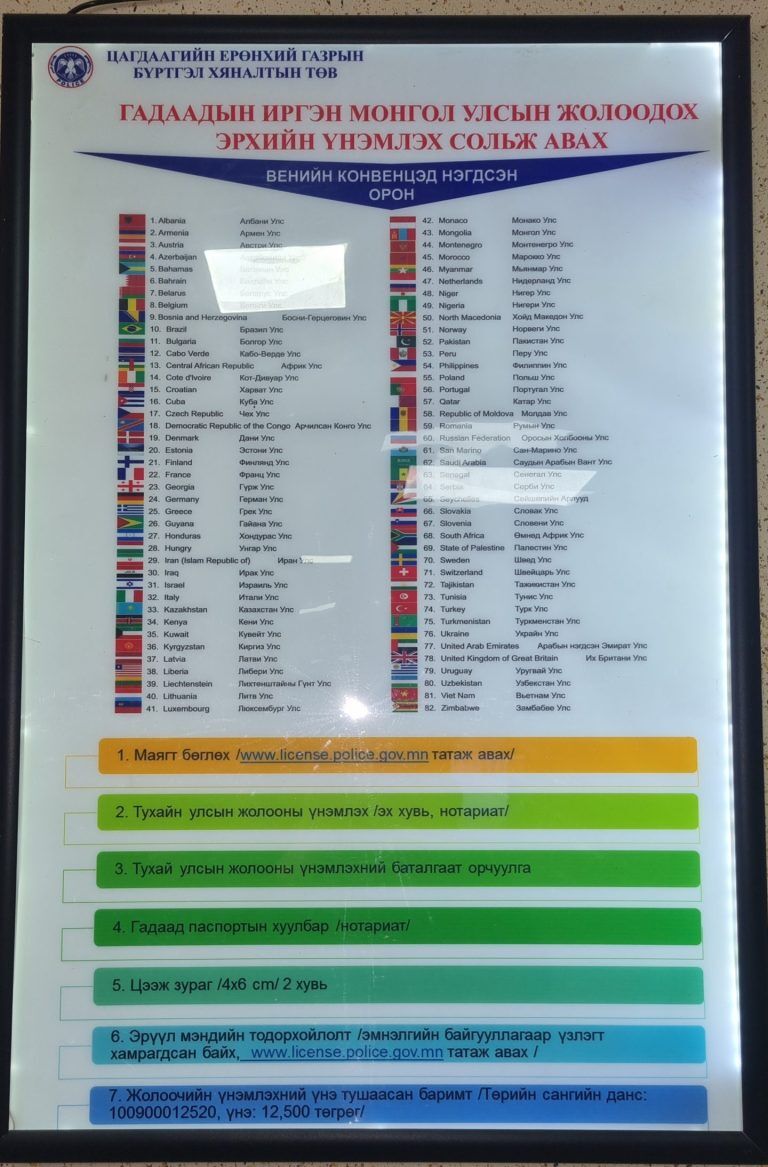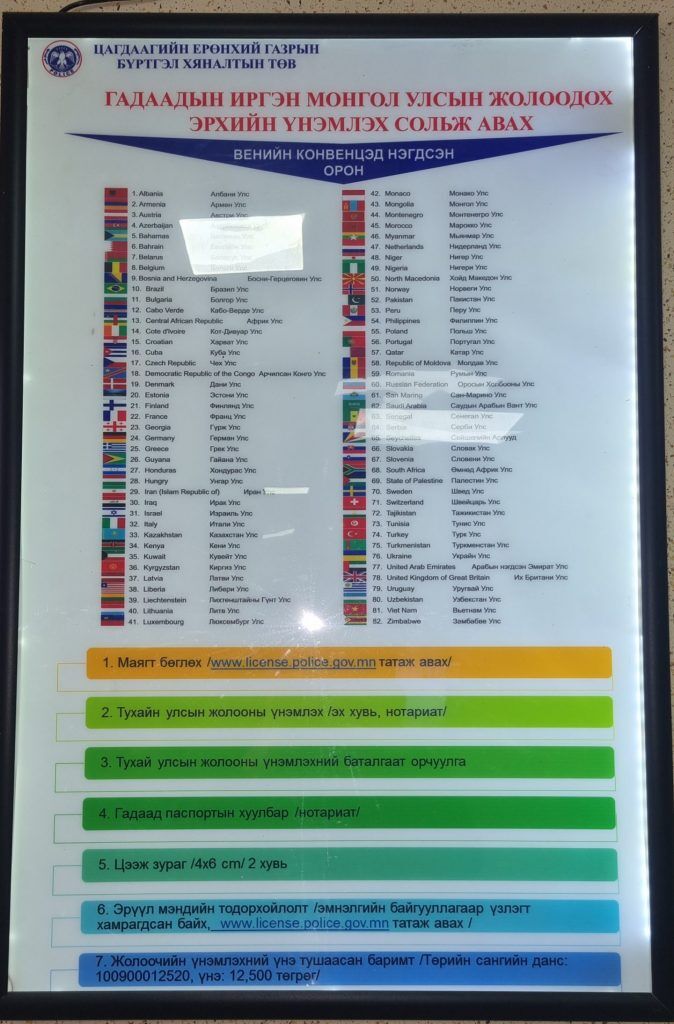 If you have a licence and you are part of a group of countries, all you need to do is sit Mongolia's theory driving exam. Now, this isn't too difficult but you will need to learn Mongolia's driving rules and some of the rules may seem strange compared to your country's driving rules.
It's worth noting that although Australia and New Zealand aren't on the list opposite, they are also accepted for this option.
You will sit the driving exam at the Driving Registration centre of Police located close to the state department store. You will sit one test of 20 questions at random from 800 questions. That may sound daunting but you can get all the questions before the exam and practice them. You can also ask to sit the exam in English which is an added perk!
Some key information here if you take this option:
Fill out the standard form at the police registration centre.
You will need a copy of your original country's license with you.
You will need an official translation of this copy. This can be done at any translation company.
a copy of your passport signed by a notary. Again this can be done at any notary company.
2 copies of a passport-sized photo (4×6)
Hospital form filled out with appropriate tests done. This is for your eyesight and blood type.
A receipt of payment for your license card.
Downside?
You need to have a license from your home country, and I don't just mean a copy, it needs to be your literal card. This option may also be a little complicated (the steps above) to do alone. However, if you have a friend that can help you for a few hours then it shouldn't be too much of an issue.
For information about this option, you can also check out the following links that could be useful:
https://www.facebook.com/licensepolice
Driving Registration Centre Location
OPTION 4: Go to driving school
This is the least fun of the options and you may want to scream and break things if you have to do it this way and that is; go to driving school.
Now don't be fooled, this isn't like a western driving school. It's a lot different and as you will find out, bureaucratic. We will take you through the process and what to expect.
Step 1: Sign up:
To begin you need to choose a school that will arrange the process going forward at each stage. Sadly, there is only one option we could find for an English driving school. For the rest, you will expect them to be in Mongolian, including the practice tests. You will find plenty to choose from but it would pay to make sure they are legit before signing up with the particular school you choose.
Once you have chosen you will need to make some form of payment or split payment and here is where you get your first surprise. As a foreigner, expect to pay a lot more than if you were a Mongolian. At the writing of this post, it was around 1.5 million tugriks (around 500 USD).
Step 2: Practice:
This is broken into two parts, a theory test and a practical test. You will need to practice for both but if you are like me and have been driving for many years like me, the practical isn't the issue, it's the theory tests! Mongolia has different rules you will need to learn and there are 800 questions from 40 theory tests that you will need to learn. These are in Mongolian but unlike myself, we can help you with that, or you can get them translated for you and practice them.
Step 3: Exams:
This will take place in three parts. First, you need to pass the directors exam from the school. I recommend that you make sure the director is present when you take the exam and not just a teacher. If they arent and you pass this stage and the teacher books you for the actual State exam you will be unable to take it (trust me I know and it's incredibly annoying). Once you have passed the directors exam with no more than two mistakes they will register you for the state exam.
State Exam:
Okay, so you pass the directors exam, they will now register you for the State exam, the official exam. You will then be given a time the following week and depending on the week it will be an odd or even day. You will not find out what time on the day until the evening before so keep your day free.
In the exam, you will be given one test with random questions from the practice tests on them, 20 questions in total. Here is some good news, they can be in English!!! Examiners will mark them on the spot and if you pass you will be able to sit your practical test with a state policeman the following week. If you don't, that's okay, you get three tries to pass so make sure to study!
Practical Driving Exam:
One week after sitting the state exam, you will have your practical exam. Again, keep your day free as you won't possibly know what time the exam will be until on the day itself. You will then, with several other students and a police officer, drive one of the predefined roots. If the police officer is satisfied with your driving you will pass and receive your license the following week.
WARNING!
The above information is current as of this posting and while we don't believe it will like change, it may be updated. Also if you have to choose a driving school we would say be careful, there are some schools that may intentionally give you false information because they want your money. The reason we wrote this post is in hope that we help others avoid making that mistake.
To know about what to expect about Mongolian roads once you actually have your Mongolian driver's license, check out of Mongolian roads post.
Otherwise, safe driving everyone.